Stallholder story: Freshwater Creek Garlic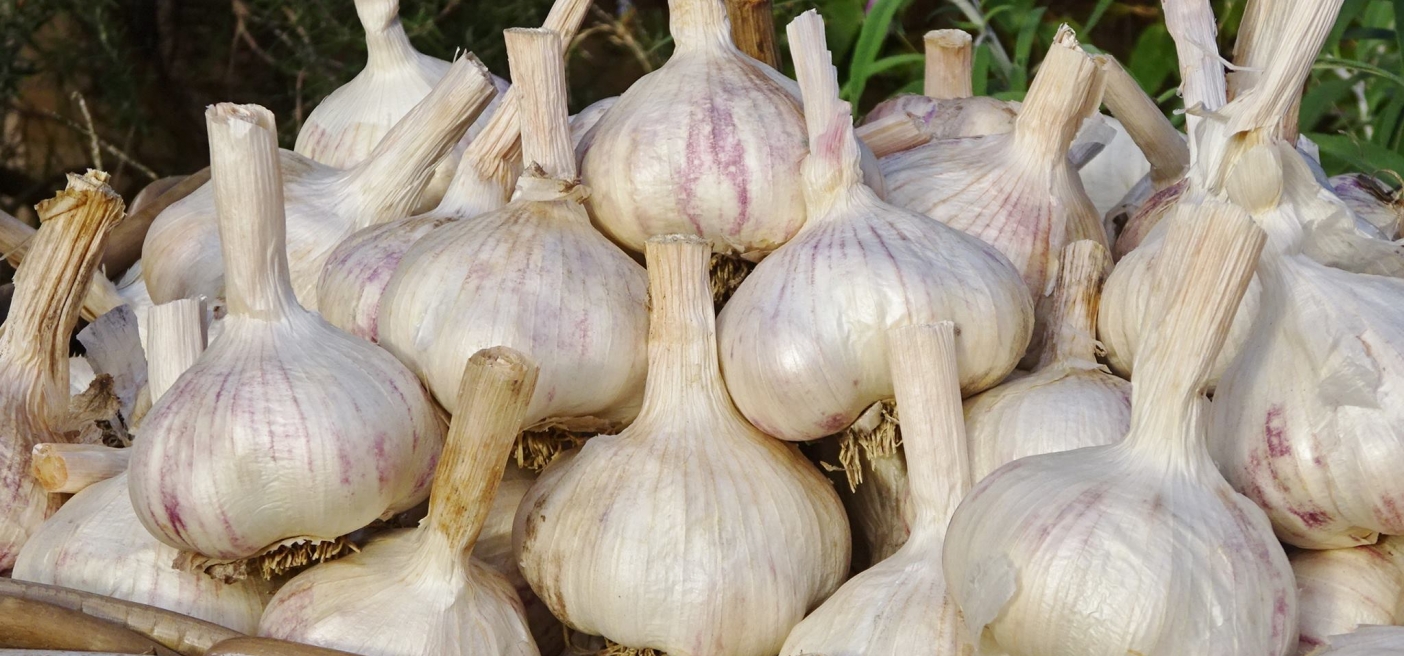 Established in 2010, Freshwater Creek Garlic is a family-owned farming business based in Freshwater Creek, just out of Geelong. Owners John and Sarah Olliff produce early green, single bulb, bunched and plaited garlic. Their produce is organic, farm-fresh and delicious—so great, in fact, they were awarded 'Gold' in the Melbourne Fine Foods Awards in 2016.
Italian Late garlic – versatile and long-lasting
Freshwater Creek Garlic grows the garlic variety Italian Late because of the region's conditions. This is a soft neck garlic with a famously robust and rich flavour, perfect for your favourite dishes. This variety has an excellent storage capacity of up to eight months (after each December harvest in the right conditions). This means Freshwater Creek Garlic not only tastes great, but will last for ages! Freshwater Creek Garlic can be used in the kitchen in many ways—raw in dressings or smoothies, stir-fried, roasted, souped, added to any spicy dish or dip… the list goes on. The owners have even heard of garlic being turned into a form of ice cream!
The Freshwater Creek Garlic story
John and Sarah started growing garlic initially for personal use; this interest grew into a passion and a business. They decided to grow their garlic organically and become a Certified Organic farm. This ensures processes and produce are rigorously audited and truly organic to the Australian Organic Certification Standards.
Freshwater Creek Garlic is grown without the use of synthetic chemicals, herbicides, pesticides and fertilisers. As John says, "It's about looking after your land and creating a sustainable growing environment."
Freshwater Creek Garlic is dedicated to growing the most sensational organic garlic for your kitchen, with a strong focus on environment and sustainability. We recommend that market-goers stop by the Freshwater Creek Garlic stall, pick up some garlic products and give their produce a go—it's healthy, yummy and you can store it for almost a year!
Organic garlic beats conventionally grown garlic!
Where organic produce is grown with natural fertilizers (manure and compost), non-organic is grown with synthetic and chemical fertilisers.
Where organic produce uses natural processes for weed and pest control, conventional produce is most often controlled with chemical herbicides and pesticides.
Find out more about Freshwater Creek Garlic on their website or Facebook page.